16.03.2022
'Women's World' spring exhibition has opened at VolSU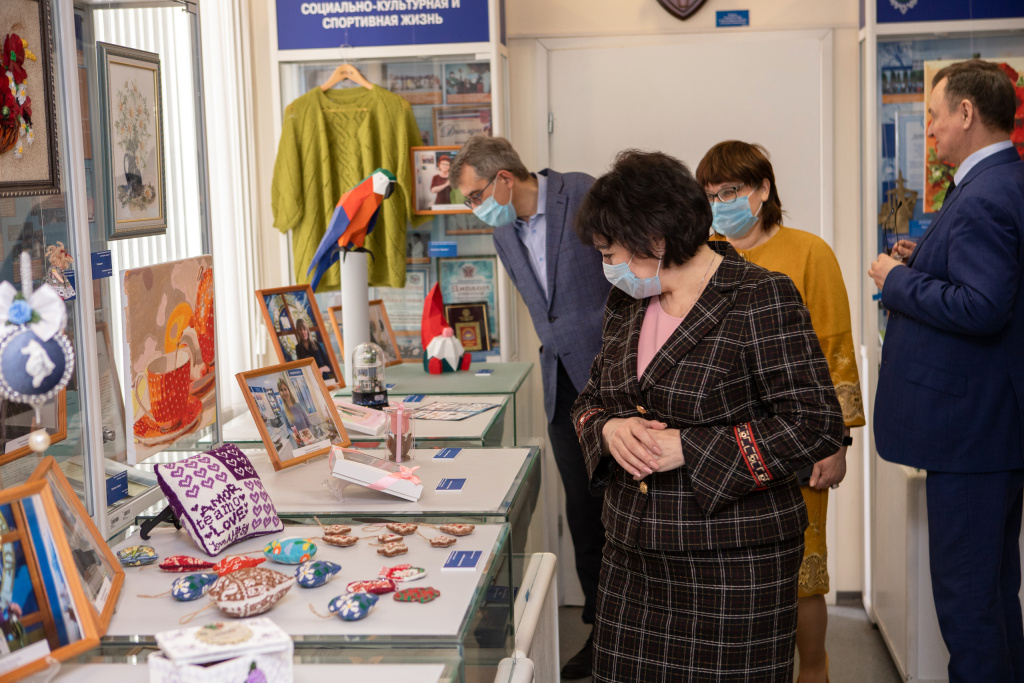 In the Year of Folk Art and Intangible Cultural Heritage, the third 'Women's World' annual exhibition of creative works by the female staff of VolSU has opened at Volgograd State University, delighting visitors with a variety of exhibits, bright colors and craftsmanship.
The exhibition presents unique oil paintings, mosaic panels, cross-stitch, textile toys, masterpiece chocolate, roombox miniatures, ceramics, beautiful Christmas toys and stylish clothes sewn and knitted by talented women working at the university.
Among the first to visit the exhibition were Rector of VolSU Alla Kalinina, Vice-Rector for Academic Affairs Dmitry Ilyin and Vice-Rector for Educational Affairs and Youth Policy Nikolai Borytko. Rector Alla Kalinina emphasized the complexity of the works and stressed that their level is so high that it can be presented as souvenirs for guests of our university, alongside with specially designed souvenirs of VolSU brand, and become the basis for creating start-ups. The rector also proposed to make quarterly calendars for the next year with thematic illustrations depicting exhibits of the 'Women's World' of different years.
"The 'Women's World' project deserves support. Every time I'm amazed by the talents of our women. These works show their inner world, how they share their feelings with others. Every toy, mosaic or embroidery is made with heart, and this is very important. We will continue to support this wonderful project," Rector of VolSU Alla Kalinina said.
Every year not only the number of participants increases (18 in 2020, 25 in 2021, 32 in 2022), but also the range of decorative and applied art: this year's innovations include neurographics and a music box.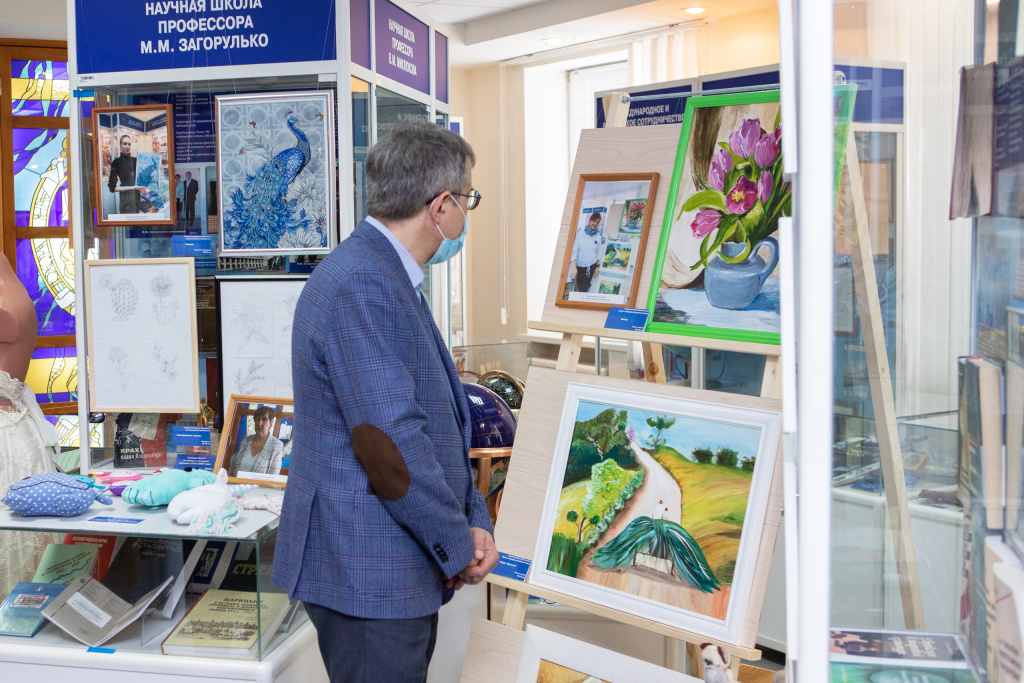 "In addition to work, every person is the creator of their own world (mindset, home, hobbies, leisure activities), but not everyone is ready to make it public," Nadezhda Archebasova, chairman of the Trade Union Organization of VolSU Employees, said. "It is significant that with each new exhibition, the degree of trust in our projects increases. People see that creativity evokes positive emotions in others, enriches the corporate culture of our university, strengthens the meaning of the word "university" (complexity, unity, universality, diversity). Hand-made and creativity are appreciated at all times."
The participants of the exhibition also shared their impressions: "Thanks to the 'Women's World' exhibition, we get new ideas, get inspired, learn something new, exchange knowledge and emotions, become closer to each other."
'Women's World' is an annual exhibition organized by the Trade Union Organization of VolSU Employees since 2020 with the support of the university authorities. The project is aimed at developing corporate culture. Traditionally, at the end of the exhibition, a 'Women's World' booklet is published with the help of the VolSU publishing house and the participants of the exhibition receive valuable gifts from the Trade Union Organization.