06.03.2022
#MYVMESTE Humanitarian Aid Center was opened at VolSU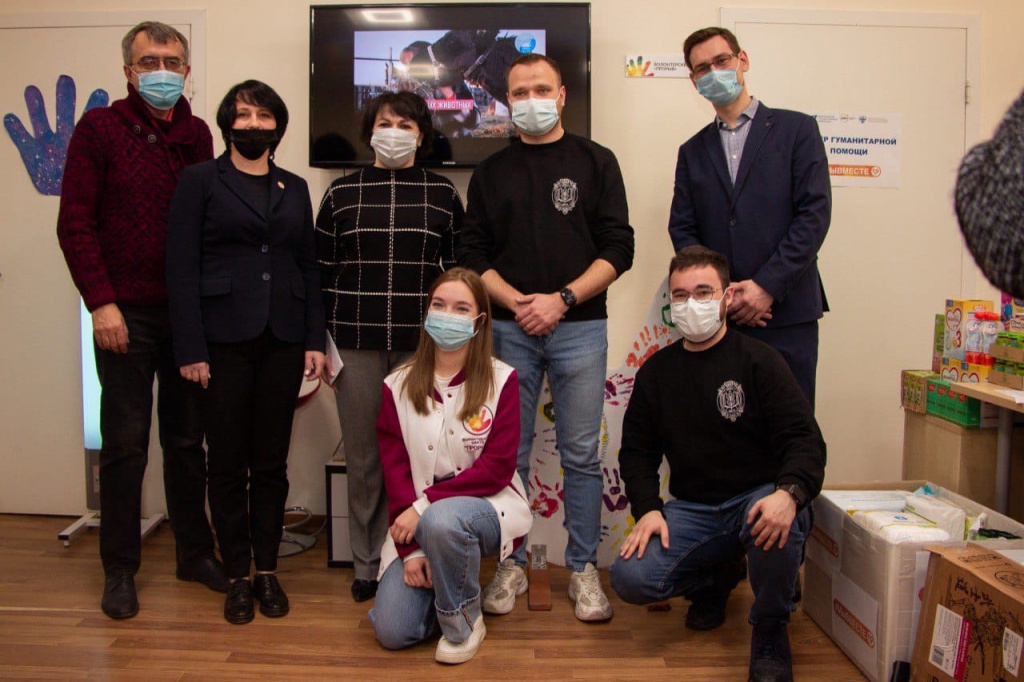 Today, the opening of the #MYVMESTE (meaning 'We are Together') Humanitarian Aid Center took place at Volgograd State University. The project is being implemented with the support of the Association of Volunteer Centers and the Ministry of Science and Higher Education of the Russian Federation.
VolSU is the only university in the Volgograd region that participated in the campaign. This project has become another direction in the work of the Proryv volunteer center, which has been operating in VolSU since 2008. The center is one of the first volunteer centers in Russia, and for several years stays one of the best according to the results of the annual monitoring of the Association of Volunteer Centers.
"I am proud to say that, over the years, the volunteer center has held about 1,500 social, environmental, humanitarian, cultural and educational events. The projects aimed at preserving historical memory constitute a significant part of the work of the volunteer center. Today, together with the Association of Volunteer Centers and the Ministry of Higher Education and Science of Russia, we are launching another wonderful project of good deeds - the #MYVMESTE Humanitarian Aid Center," Rector of VolSU Alla Kalinina noted in her welcoming speech.
The humanitarian aid center at VolSU is open to all concerned residents of the region, who are ready to provide support for families evacuated from the Donetsk and Luhansk Republics. It should also be noted that the university is implementing the Third Mission - it contributes to the socio-economic development of the Volgograd region.
"The #MYVMESTE title speaks for itself, because today, universities and we all must be as united and strong as ever and contribute to the development of our homeland by doing our daily work," the rector stressed.
The Trade Union Organization of VolSU Employees and the Trade Union Committee of Students were the first ones to provide humanitarian aid. The opening of the Center was held as part of the #MYVMESTE Weekend campaign, which united leading Russian universities. In VolSU, the campaign ended with a 'Sports Maslenitsa' event, which was attended by more than 100 VolSU students.
It should be noted that the reception of food and non-food products for the refugees is conducted in accordance with the special list of items. Food, crockery, personal hygiene products and basic necessities may be provided as humanitarian aid. Please note that all items must be new, with preserved packaging and labels. Food products must have a long shelf life and a valid expiration date.
Also, as part of the work of the #MYVMESTE joint headquarters, the Russian Red Cross has launched a nationwide fundraiser to help refugees from the territory of Donbass. The donation can be made on the мывместе.рф website or the Russian Red Cross website here.
The aid is being collected at the Volunteer center (room 2-20 Г).
The center is located at 100 Universitetskiy Prospekt (Building Г)
Working hours: Monday - Friday from 10:00 to 16:00.
Tel.: 8 (8442) 40-55-36