13.10.2021
VolSU in TOP-10% of Aggregated Global University Ranking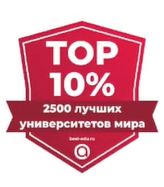 According to Webometrics.info there are about 25,000 universities in the world. The Aggregated Global University Ranking 2021 includes 2930 universities from 120 countries, including 108 best universities in Russia.
The ranking is based on a new approach on assessing the performance of universities by aggregating the results of 11 global rankings and the Database of External Quality Assurance Results (DEQAR). The methodology used by MetALig (League Analysis Method) allows to aggregate different ranking results used in authoritative global rankings and assessments regardless of significant differences in their calculation methodologies and indicators.
The leaders of the Aggregated Global University Ranking are universities from Great Britain, Germany, the USA, China, and Russia: Technical University of Munich, Paris-Sorbonne University, Harvard University, Cornell University, Lomonosov Moscow State University and others.
Volgograd State University entered the top 10% of the world's best universities.
According to Dr. Marina Fadeeva, head of International Office of VolSU, no single ranking can capture all the specifics and scope of a university's achievements, as every university is unique in its mission and purpose. In order to get an objective picture, the rankings should be considered as a whole. The research project "Aggregator of Independent Higher Education Evaluation" aims to do just that.
As the experts of the ranking point out, the number of rankings at national and global levels will continue to grow, while the role of subject rankings will increase. Big data and artificial intelligence technologies will increase the research-intensive nature of the new rankings. The advantage of the Aggregated Global University Ranking for applicants, students and academics is the opportunity to compare the performance of universities on the desired parameters on one platform and obtain an objective assessment of the HEI's achievements.