10.11.2020
Gender issues are discussed at VolSU
The 3rd Annual All-Russian Scientific Conference "Gender resources of the modern world-2020" was held at Volgograd State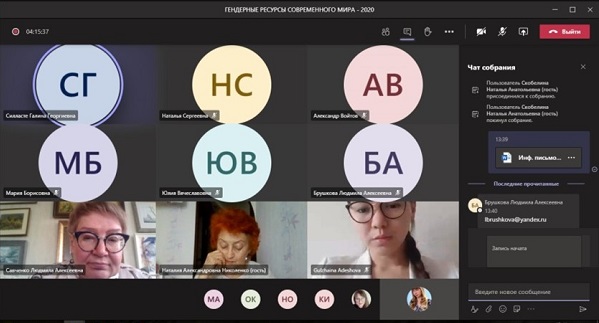 University. VolSU researches as well as their Russian, Kazakh and Mongolian colleagues attended this online Conference.
The participants analyzed the methods of applied research of gender in everyday life, introduced relevant information in the teaching of sociology of gender and consider the gender equality in the modern world as a part of sociology of gender that requires innovative approaches to research.
Despite the distance between the participants, there was a friendly atmosphere during all Conference. At the end of the event, the plans for future cooperation between universities were discussed in order to develop sociology of gender in major Russian universities.
On December 4, 2020 the 4th All-Russian Scientific Student Online Conference "Gender Kaleidoscope – XXI Century: 2020" will be held where any student can participate. Students also have an opportunity to show their knowledge at the International Scientific and Practical Online Conference "Dynamics of Modern Society: Transformation of Life-World and Structures", that will be held on December 17-18, 2020. Applications for participation are accepted until December 1, 2020.
For more detailed information, please, visit the web-pages of the Institute of History, International Relations and Social Technologies on the official website and in VK.