10.10.2022
Volgograd TRV Broadcasting Company: Volgograd volunteers and activists of All-Russia People's Front movement held a volunteer clean-up on the Lysaya Gora hill
Volgograd volunteers and environmental activists together with the leaders of the regional headquarters of the All-Russia People's Front movement cleaned up the memorial on the Lysaya Gora hill. This ecological action gathered 350 participants who filled 30 trucks of waste.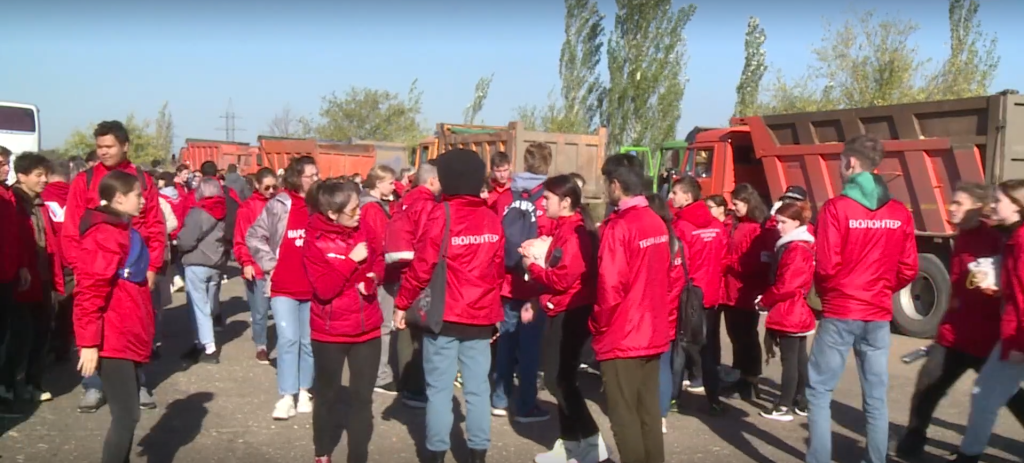 For Volgograd residents the Lysaya Gora is a symbolic place. During the Great Patriotic War fierce battles for elevation 145.5. For almost five months, the soldiers of the 64th Army under the command of General Shumilov were fighting to the death. Battles here were as fierce as the ones on Mamaev Kurgan. This height was the most important strategic point: it offers a view of the Volga and the southern part of the city.
However, some citizens have forgotten that the memorial complex is a cultural heritage site of federal significance: people keep leaving garbage here. A thorough cleaning of the territory was necessary and volunteers regularly conduct a clean-up in this area.
"This place has been settled upon us for many years for a reason: we tidy up this place with great responsibility and love to volunteer movement," Jafar Pochakhov, student of Volgograd State University, says.
The action brought together 350 participants - students of Volgograd universities. Everyone approaches the task responsibly. The territory is cleaned by hand using only gloves and bags. For several years the People's Front activists have held volunteer clean-ups at the site.
"When you understand what kind of work you do and what you do it for, then, of course, here comes another approach and a different mood, you can see that even now a lot of garbage has already been removed, but we will still follow through this work," Anton Lukash, Co-Chairman of the regional headquarters of the People's Front in the Volgograd region, explains.
During one day the volunteers managed to collect over 500 bags of trash. 30 trucks of waste were filled.
"It is a kind, great and most importantly fruitful action. Today we have 350 people and 30 units of equipment. These are dump trucks that are taking out the garbage one by one. We also have loaders, which pick up the construction debris," Irina Sharipova, Head of the Executive Committee of the regional headquarters of the People's Front in the Volgograd region, says.
Participants of the action are sure that the memory of the defenders of Stalingrad should be preserved. They believe that those who leave garbage on this sacred land must have forgotten about the great feat of their ancestors.